"89/93" obtained from a biodiversity agriculture Frantoio Gaudenzi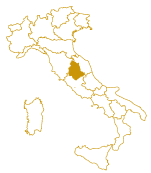 SPECIAL NOTE: Between 1983 and 1993 Frantoio Gaudenzi planted a 30-hectare sustainable olive grove in the Colli Martani area to safeguard the biodiversity of the region. The land has been divided into several olive groves within each of which a different Umbrian variety has been planted and through a sub-irrigation network powered by rainwater collection points and solar energy we will be able to have a constant production at a low "environmental cost".
DESCRIPTION: 89/93 is certified as PDO Umbria – Colli Martani. The olives come from our olive grove in the zone of Colli Martani and the result is a balanced EVO with medium intensity of bitter, spicy and fruity. The smell is fresh with notes of almond, grass, and chicory.
COLOUR: Green with golden reflection
ACIDITY: 0,2%
CULTIVAR: San Felice, Moraiolo
INTENSITY: Medium fruity
TASTE:  Medium intensity of bitter and spicy
SCENT: Fruity
PRESSING: Cold extraction
FILTERED
HARVEST: 2022/2023
Quantity: 500 ml
Are you a trade customer? If you are a trade customer, please email us at trade@theoliveoilco.com